Here are some of our alumni, with stories about their new lives:
Missy
One of our first adoptions, Missy was placed here due to "constant screaming." She did like to make a lot of noise! She was placed in a room with Romeo, the sole macaw, and they would both scream, and then Romeo would yell "STOP!" and she'd reply with "SHUT UP!"

Missy also had no social boundaries. She often terrified new volunteers by flying and landing on them without warning, though once they realized she was being friendly and not aggressive, she quickly won their hearts! As time went on, we worked on her boundaries, her level of loudness, and found she just wanted and craved love and attention – sadly so much attention that we couldn't offer enough with caring for all the other birds.

Our longtime volunteer Bernice spent time with Missy every time she came, and began to fall in love with her sweet and funny personality. Before too long, Bernice made the decision to foster Missy to see how she would fit in to her household.

To say this was a success would be an understatement. Missy is loved, spoiled and happy and has the best home with her momma, Bernice! We are forever grateful to Bernice for giving Missy a happy home and lots of love!
---
The following stories were sent to us by Jillian Granick – who has fostered and adopted more than a few birds for Marden's Ark. These are her birds and their stories:
Amelia
Shortly after beginning to volunteer for Marden's Ark my now husband and I decided we wanted to add a cockatiel to the family. I talked with Dee about it for a few weeks and then she suggested a cockatiel that had been rescued from outside a while back. Amelia had been found flying outside, clearly hand tamed. After looking for months for her home, no one had claimed her. I first met her at Marden's Ark and knew right away how sweet and calm she was.
Shortly after that, we took her home! Amelia immediately loved Isaac and wanted nothing more than to sit on his shoulder and get attention. She was more than happy to just be in a household where she could be around people! Through the years she has remained a sweet, calm, friendly cockatiel that fits perfectly into our household. She gets along with everyone and never has issues with anyone!
We have loved having her in our family, and are so happy she has found a bird companion in Neil the cockatiel as well!
---
Clyde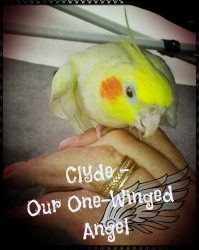 (Clyde flew off for Heaven on April 2, 2019 and is deeply missed by all of us and especially her foster family. )
Clyde is a very special lady! I met her the first day I volunteered – a little yellow bird who wanted nothing more than to get head scritches. Due to a bad vet and uneducated previous owners, Clyde only has half of one wing. This disability didn't stop her though! Clyde had no problem climbing around to get where she wanted to go. Every time I went to the Ark I made a point to take her out and spend some time with her. She was always excited to get out and get attention!
When we took Amelia home, Dee said to me, "I know you wanted one cockatiel but how about two?" After a lot of thought and consideration Dee and Brian decided that Clyde might be happier in a home environment where she could get more individual attention! Additionally, with her disability, she could benefit from more one-on-one care. So now we had two cockatiels!
Clyde settled in right away, loving having as much attention as she wanted. She and Amelia were not friends (Clyde has never been a fan of other birds and would rather think of herself as another human) but over the years we have had them they have gotten to a comfortable respect where they can happily sit next to each other and just respect their personal space. As she has gotten older, she has moved out of our bird room and into a special long cage with shelves as her mobility and balance have decreased. But she is just as happy to be in the family room and closer to us! Through the years we have had a few health scares with our little old lady, but she's still going strong and will hopefully be with us for a few years more!
Neil
Neil was a bird we helped transport to the Ark after he and many other birds were seized from a warehouse hoarding situation. When he first came to our home with one of his buddies, he was terrified of everyone and everything. Even walking by the cage would result in a full scale freakout. After a month of quarantine, we decided to see how the two boys would do with our two girls. Clyde, as usual, wanted nothing to do with them. Amelia was hesitant to be around them, but soon warmed up! After a few weeks Neil no longer screamed and flew away when we walked by. His companion, who we also had, ended up going back to the sanctuary, as he never got comfortable with us being nearby. A few months after getting Neil, we noticed he and Amelia spending more and more time together! They quickly became inseparable and Neil has even come out to be around humans a few times and will step up on your arm! It has been amazing to see him come out of his shell and learn to be a part of a household!


Luke
Luke was found as an escaped bird – he was outside and discovered a nursing home, where he went from window to window looking for people to notice him! It worked, and he was brought to the Ark. It was obvious he was a loved pet, as he was very human friendly and also could whistle a number of songs including some Star Wars tracks! Sadly, his home was never found despite posting ads everywhere and reaching out all over the state. After his quarantine was up, he came to our house! He quickly fell in love with Amelia, who did not feel the same at all. He and Neil were definitely not friends, but as long as Luke stayed away from Amelia we had no issues. Luke loves being out with us, singing to Clyde who he also is in love with (and who also does not feel the same). He is definitely "my" bird and only wants attention from me and not my husband. Although he doesn't like hands and will not accept head scritches, he loves to rub his head against mine and snuggle up to my neck!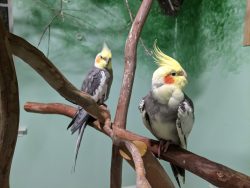 Gus
(Gus flew off for Heaven on January 29, 2019 and is deeply missed by his family, friends and all of us here. )
When I first met Gus, I had walked into the aviary to sweep and clean. I instantly noticed the white and yellow splotched new guy, who was sitting in the corner looking a bit overwhelmed. As soon as he saw me come in, he immediately flew to my shoulder and demanded head scritches. The trouble was, once he was on he didn't want to get off! I basically had to trick him to get out of the aviary without him clinging on. Dee explained to me his background, that he was a much loved pet and had been in the same family environment for over 15 years! As the weeks passed we saw Gus slowly come out of his shell, but he always remained very human oriented. As soon as he saw people, he wanted nothing more than to go to them for attention and scritches. Although he tolerated the other cockatiels and the budgies, he never seemed to form any strong friendships. After some time, Dee began to consider having a home foster him – he went to a home that didn't work out and then came back a bit later, the same friendly boy. Fostering is great because it allows people to see how a bird will really fit in their homes, and sometimes the fit isn't just right and that's okay! After he came back, we noticed how much he still really wanted to be around people. Most cockatiels and budgies LOVE the flock environment, and happily adapt to having more friends than they know what to do with! But it seemed Gus wasn't one of those birds.
Dee began to propose the idea of our home fostering Gus – we had successfully fostered and adopted 4 previous cockatiels and a few budgies, all of whom are still with us living happily in a room of their own where they are free to fly and play! I was hesitant at first, because Gus seemed so human oriented and I didn't want him to be unhappy in a new environment where other birds would still be around. My biggest concern was our male cockatiel Luke – he was the third wheel of the bird room since the other 2 cockatiels, Amelia and Neil, had formed a happy little couple. Our 4th cockatiel, Clyde, is disabled and kept out of the bird room since she can't fly. Adding another male cockatiel was potentially a recipe for an unhappy flock. After a number of weeks of discussion, we decided to try it out! With the foster program at least we knew that if Luke and Gus didn't get along and wouldn't integrate, we could always bring Gus back to the aviary he had adapted to. Gus was so happy to be in a home again as soon as I brought him in! He immediately wanted to just sit on my shoulder, and as soon as my husband got home he loved him too. He spent a few happy hours that evening just being the only bird getting attention – which is what he wanted all along! Later that evening I introduced him to the bird room. Amelia and Neil were, predictably, totally uninterested. Luke was immediately upset at this new bird that was getting my attention. However, after a few minutes of introductions and inspections, he calmed down and decided to just warily watch Gus from afar. That evening they all went to different perches and slept through the night. As the days progressed, I noticed that when I took Gus out of the room Luke started to insist on being taken out too. At first I thought it was simply a matter of jealousy – Luke was used to being the only bird getting attention since Amelia and Neil were happy to be by themselves doing bird things. However, after a few weeks I noticed that if I took just Gus out BOTH birds got upset and began flock calling. So I began taking both out together – Gus was still happy to get human attention, and Luke was content to just be nearby. After a week or two they were inseparable! The third wheel and the human oriented cockatiel became unexpected best friends – they ate together, sat together, flew together, and sang back and forth. Gus began to imitate Luke's songs, and Luke began to chatter like Gus. Now they do everything together – they don't want to be more than a few feet apart! It has been a joy and a treasure to watch these two previous loners became new buddies.