There are many people who find sprouting intimidating. But it doesn't have to be that way. Sprouts are a healthy option for your birds' diet and are easy to prepare with a little bit of knowledge and a few easy tricks. Why are sprouts healthy? Sprouted seed is more nutritious because of enzyme activity, which breaks down the stored proteins and starches in the seed into amino acids and other simple carbohydrates the seed needs to begin building (growing) a new plant. Basically the seed digests its own proteins and starch to form amino acids. So sprouted seeds and legumes are actually easier to digest and more nutritious because the sprouting process is doing the first part of the digesting for you.
Sprouts are living food, a vital part of good nutrition –

Dee Hicks, RN – Head Dietician – Marden's Ark Avian Refuge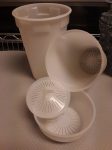 A good sprouter can make things easier. This particular one is one we've used for years.
If you've never sprouted before, here is a good place to start. This site has a lot of good information in an easy-to-understand format. If you follow their advice, you will be feeding your birds fresh, healthy sprouts in no time.
Another good resource for help with sprouting is the Facebook group Avian Raw Whole Food Nutrition. Not only do they have helpful information in their files section on sprouting, but they have many members who are experienced and will offer help and advice. You must join to see posts and participate. Be sure you use the "search" to make sure the same questions haven't already been answered! The group is moderated to be on topic, with all posts only relating to feeding a raw, whole food diet. Though we advocate other options (such as breads, and casseroles made especially for your birds) we still find this group to be full of good, solid information and a great place to go for help. The group was founded and run by Dr. Jason Crean, who holds a PhD in biology and who has a lot of experience with raising birds, specifically Green Aracaris.
Don't let the mystery of sprouting intimidate you into giving up. There's lots of help and advice and with a few easy tips and the right equipment, your birds can be eating even healthier in no time! Freshly sprouted greens and microgreens (tender young plants slightly older than sprouts) are an excellent and natural food source for your feathered family members.