One of the arguments we often hear for resorting to manufactured foods is "But I don't have the TIME to do all that food prep and cooking for my birds!" We get it. People have jobs, lives and many other responsibilities that weigh heavy on how they divide their time. As I have said in earlier articles, it's not easy to provide a wide variety of nutrients – but it's VERY worth it in the end. So when you have to make choices based on available time to prepare your birds' diet, what can you do?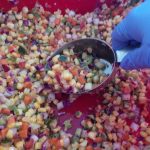 Many people advocate preparing a week's worth of "chop" (diced or chopped fresh produce) and storing it in the freezer. We don't use that method because we have some picky beaks here that won't eat the food once it's thawed. Some vegetables freeze well, some don't. So we prepare our fresh produce weekly and by using good aseptic technique in preparation, it lasts and is still fresh by the time we run out.
One good way to save time is to buy food you can keep on hand, that stores well and is quick to prepare and serve. We recommend http://www.texasnaturalfreezedried.com . They have a WIDE variety of products, including pre-made "chop" you can serve dry alone or as a topper to other foods, or re-hydrate by adding a small amount of water, fruit juice or fresh fruit like pomegranate and tossing it until moistened. Many birds really enjoy the crunch, though, and feeding it dry is not only fast and convenient, but nutritious.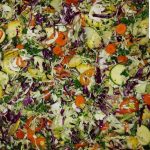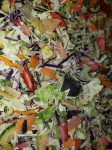 The chop has a very wide variety of ingredient for optimal nutrition. You can see by the beautiful colors that your bird is getting a literal rainbow of nutrients in a product that's as simple as opening a bag and pouring it into their bowl. Why is this better than a manufactured diet? Because this doesn't contain artificial nutrients, added chemical preservatives or any artificial colors. It's wholesome nutrition, straight from nature.
You can buy the mixed chop and serve it as a daily meal, and you can also purchase separate fruits and vegetables if your bird has certain foods they absolutely love. There are so many options to choose from and you won't have to spend all your time in the kitchen chopping, dicing and portioning the healthy foods your bird will love. You can shop their varieties of chop HERE.
The best foods are those that derive their nutrients from nature, not from a laboratory. And feeding a variety is the best way to be sure your bird is offered a broad nutritional spectrum.
For more information on their products and the nutrition they offer, you can check out their website